Meditation Made Easy & Cozy
RECHARGE YOUR MIND
In our modern meditation studio
We LOVE Beginners
Don't worry, we have cozy cushions and specialized chairs with back support so you don't have to sit in any uncomfortable position. There's no dress code here either so you can wear whatever you want. We understand that traditional meditation may seem intimidating and maybe even weird for some people. But we want to assure you that we are a modern meditation studio that is free of judgment and will make you feel at home from the moment you walk in. Our purpose is to awaken the world and we can't do that without courageous beginners willing to give us a try.
Meditation Made Easy & Cozy
At THE PEACE ROOM™ we
utilize your 5 senses to induce meditation.
We combine relaxation tea, projected imagery,
sound healing, light neck massage and guidance
from a teacher, to help take your meditation
experience to the next level.
Sit back in our cozy seating
while you are guided toward
inner peace.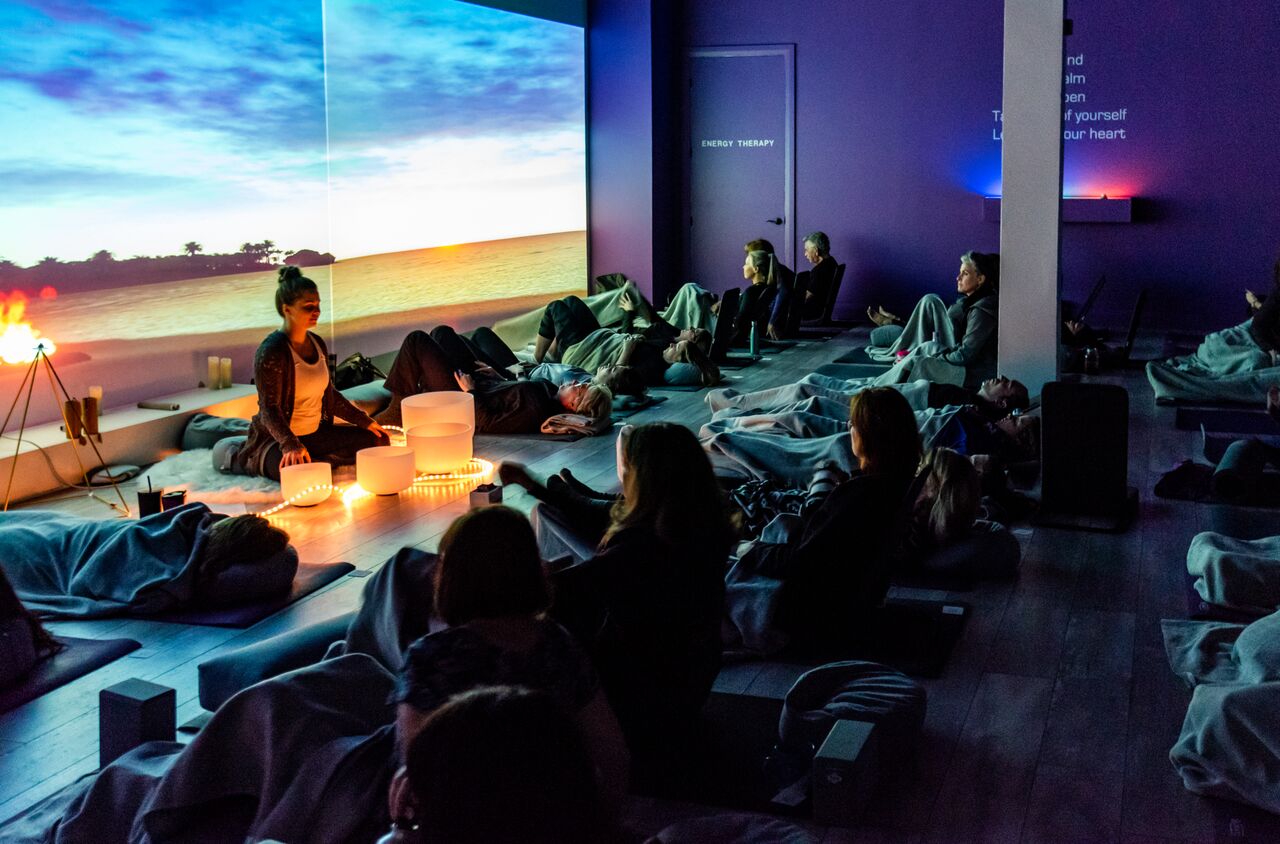 New Guided Meditation Classes - Coming May 6th
We have 45 min classes as well as 20 minute classes

Cherry Blossoms Meditation
Springtime is all about new life and new opportunities. Flowers bloom, birds sing, and our dreams and aspirations begin to take flight.
During this spring time meditation, you are taken to a magical outdoor setting where you are surrounded by cherry blossom trees in full bloom and invited to sit amongst them and enjoy the natural landscape around you.
This experience will inspire you to appreciate the simple pleasures in life and awaken your inner potential.
Island Escape Meditation
How often do you get caught up in everyday life and forget to take a moment for yourself?
A quiet space to unwind and relax can do so much good in relieving stress and anxiety and calming the mind.
The Island Escape Meditation is the perfect break just for you regardless of the time of day - a space to let go of your worries and concerns, lay back, and be taken on a journey within that will leave you feeling relaxed and peaceful for the rest of your day.
Friendship Meditation
Deep down we all want to feel seen, heard, and be appreciated for who we are and what we bring to relationships.
Also, we all want to be loved and cared for and know that we matter. It is often our friends that see those qualities in us that others don't see and lift us to a higher place within ourselves, offering up encouragement and a space to be who we truly are.
This meditation uses the uplifting image of sunflowers and the happiness they symbolize to take us on a journey within ourselves where joy and friendship exist.
Join Our 12 Day Meditation Challenge
Meditate 12 days in your first month and win prizes.
"This place is everything! a little gem with big shine in the heart of downtown Ottawa! It's nice to meditate in community and all of the instructors are soft spoken light hearted lovelies. Even waiting for your class is a joy. i could bask in the sunshine of their lobby all day!! Check it out!" Natalie J
"A very zen experience." Joanie V
"It's so nice to have a sanctuary in the middle of the city. I've gone to two meditations so far and it's a wonderful experience. I love how they interweave the guided meditation with unguided meditation and even incorporate touch and smell into the experience. Highly recommend." Valerie D
"Love this place...a small bit of peace in an otherwise busy day!" Laura W
Energy Therapy
Energy therapy is a collective term used to refer to a variety of alternative
and complementary treatments based on the use, modification, or manipulation
of energy fields. Energy therapy presupposes or accepts the theory that matter
and energy are not exclusive opposites, but that matter is simply a denser form
of energy that is more easily perceived by the senses.
Peace on Parliament
Join us every Monday throughout the summer at noon for a FREE guided meditation on Parliament Hill. Every week we invite a new healer or teacher in the city to help guide everyone. It's a great way to get started, it's free to attend and you get to meet a lot of great people.
The Science Behind Meditation
Everyday we are bombarded with things to do. Our mind is always thinking about the things we forgot to do last week and the things we need to do next week. We live in this constant state of past and future never allowing the dust to settle so we can see the right path more clearly.
Once you get into the routine of meditation you will start to notice different changes in your mood and body. Here are some of the changes you can expect.